Loads of Value Packed into DynaVue and DirectVet Systems

DynaVue is the only 2-in-1 Digital Radiography and Fluoroscopy solution for veterinary interventional radiology examination. This new system makes available advanced technology typically associated with the largest practices and busiest emergency vet clinics around the world in a space-saving total imaging solution.
Some advantages of DynaVue include:
Minimally invasive diagnosis and therapeutic procedures
Real-time image processing
No image distortion caused by C-arm
DynaVue combines user-friendly design and great image quality. Image speeds are up to 20 FPS without processing or 15 FPS with applied post image processing for real-time visibility.
Features of DynaVue include:
2-in-1 (digital X-ray and fluoroscopy)
Enhanced movement with 4-way floating table
23" touchscreen display
10 kW monoblock type; 15 kW inverter-based system
Pulsed fluoroscopy offers reduced dose
Within both DR and fluoroscopy capabilities, the applications for DynaVue are plentiful:
Minimally invasive fracture repair
Intraluminal stenting for tracheal collapse treatment
Treating urethral and colonic obstructive disease
Vascular procedures
Orthopedic procedures
Contrast studies of the gastrointestinal tract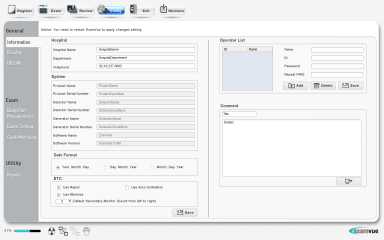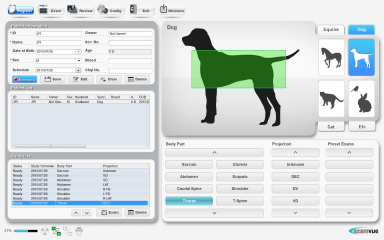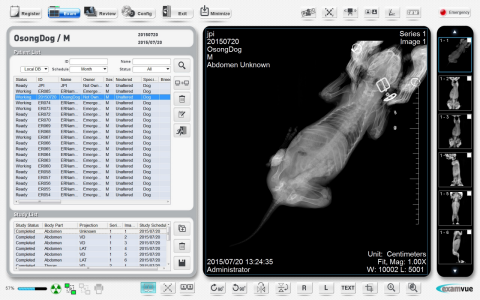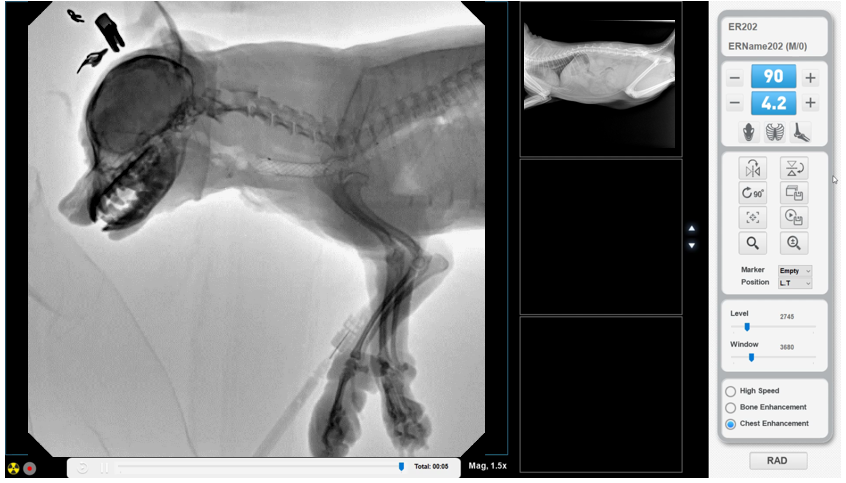 The DirectVet 110-volt veterinary digital X-ray system combines our robust ExamVue Software, easy-to-install Vet-view Veterinary Table and high quality, cost-effective digital detector for a complete system that can be set up in one hour. The DirectVet system gives your customers quality digital x-rays, allowing their practice to hit the ground running at an attractive cost without special preparations, power supply, or construction.
This all-in-one digital x-ray system can be assembled and taking x-rays within an hour, and doesn't have any of the costly electrical cabling and power requirements of most x-ray systems.
DirectVet is powered by ExamVue DR acquisition software, which features:
Optimized user interface for touchscreen capability
Imaging and annotation tools
Smart Window Level
DICOM 3.0 compatibility
Post-image processing for each anatomy
The system's detector is designed for high-precision, low-error diagnosis, and is ready to shoot within 5 seconds of setup. Consecutive images are available in less than 4 seconds, allowing practitioners to increase productivity while also boosting client satisfaction.
If you're interested in learning more about the value packed into the DynaVue and DirectVet systems, we'd love to put you in touch with one of our Account Managers. Please feel free to call us at (516) 654-6955 today.